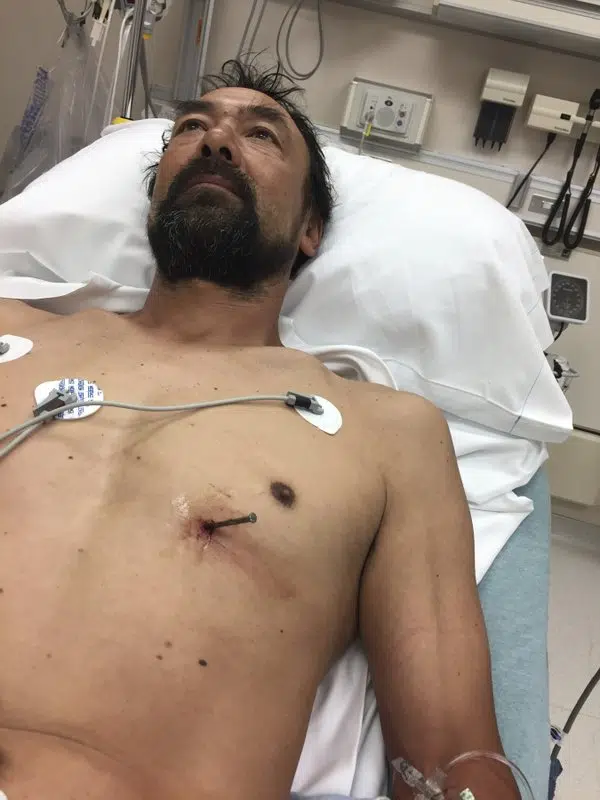 This guy has more manliness in his little finger than I'll have in many lifetimes.
From the Associated Press:
A Wisconsin man who doctors say came perilously close to death after accidentally shooting a nail into his heart while working on his house calmly drove himself to the hospital and even parked his pickup truck in the lot before walking into the emergency room.

Doug Bergeson is ready to get back to work this week after surviving a June 25 ordeal that others might not have taken in such stride. Bergeson was working on framing in a fireplace at his house when his nail gun accidentally fired, sending a nail ricocheting off some wood and into his chest.

"I thought it just nicked me. I looked down. I couldn't see anything," Bergeson said Tuesday in an interview with The Associated Press. "I felt OK. I wasn't worried about the injury. I couldn't feel any pressure or blood building up."

As he tugged at his sweatshirt, the 52-year-old said he realized only about an inch of the 3½-inch nail was sticking out of his chest.
If I somehow made it this far, I would have passed out here. But, Bergeson continued on.
"I could see the nail moving with my heartbeat. It was kind of twitching with every heartbeat," said Bergeson, who lives near Peshtigo in northeast Wisconsin.

He was more annoyed than worried. He knew he had to go to the ER.

"I was frustrated because I knew I wasn't going to get home until late and I couldn't get anything done," Bergeson said, adding that "common sense" told him not to pull the nail out.

So he washed up, hopped in his truck and made his way to Bay Area Medical Center in Marinette, about 10 minutes away. After parking his truck and walking into the ER, Bergeson said he started to feel more pain and summoned a security guard for help.

"If you could find someone that would be great, I'm just going to sit down," he told the guard.

Still thinking he would soon be on his way home after a little medical attention, Bergeson texted his wife, Donna, to bring him a new shirt because medical staff had cut off the one he was wearing.
I pretty much cry after stubbing my toe. This man is a bad ass.