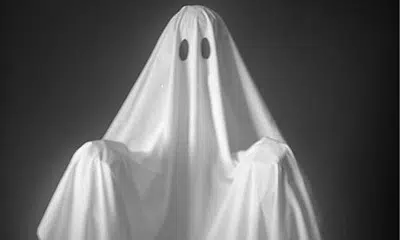 Sorry, dudes! Now, you not only have to compete with the other dudes for the affection of a lady…you have to compete with the ghosts of our dead friends as well! A British woman, Amethyst Realm, told the Bristish TV show "ITV This Morning" that she prefers sex with ghosts to sex with men. She says it all started 12 years ago when her and her fiancé moved into a new home. So, just to keep things straight…she was engaged to another, real, dude when this ghost-dude got into her lady business. She then had an affair with that ghost-lothario for three years only ending when her, then, real-dude husband came home and saw the shadowy figure of a man through one of their windows.
I wish I was making any of this up…but I'm not. These are real people…with real faces…and a real ghost love triangle.
So now, Realm is all ghost all the time racking up 20 total ghosts in her little black book. I'm not trying to ghost-slut-shame but that seems like a lot of ghost-dudes in a short amount of time? 19 ghost-lovers had in 9 years? Maybe it's just me.
"I've done a bit of research into phantom pregnancies," Realm said. "There's a possibility that it is a ghost in you, but people don't know how to carry it to full term."
Again, I can't stress this enough…she is a real person…with a real face…and she is alive today. David Bowie and Lemmy Kilmeister are dead…but this lady, with her ghost-pregnancies and ghost-dudes with ghost-penises is free to walk the earth.
SOURCE: HUFFINGTON POST