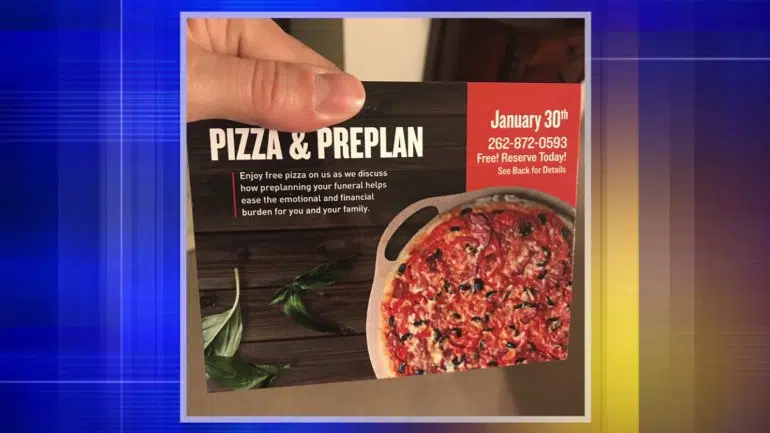 SOURCE:  FOX5Now
BROOKFIELD, WI — It's a pizza party you'll remember for the rest of your life. Krause Funeral Home is offering a unique approach to get you to think about death: free pizza.
On Tuesday, Jan. 30, the funeral home will offer free pizza as an incentive to get people in to pre-plan their funeral. A gimmick? You bet — but organizers say pre-planning could save you thousands of dollars in the long run.
It's the kind of invitation that made Janice and Dale Cassle do a double-take.
"We got a postcard in the mail," Janice Cassle said.
"It's a creative way of doing it," Dale Cassle said.
Last February, the Cassles, married for 40 years and in good health, they decided to take Krause Funeral Home up on the offer.
"I never liked death. I was always afraid of it," Janice Cassle said.
With a new round of invitations out promoting a similar event Tuesday, Jan. 30 in Brookfield, it's safe to say many more families are having the talk about the end.
Many funeral homes now offer to keep your wishes on file for free, but if you're interested in pre-paying, you can also stretch your bill out over the course of several years. Krause said more than 100 people showed up to their "pizza and pre-plan" event last year.