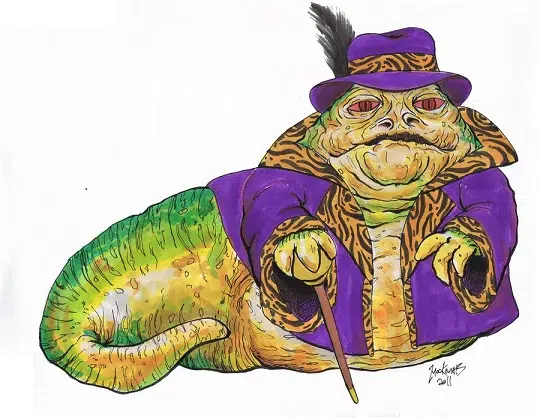 In recent years we have seen a lot of pop culture prognostications manifest into truths. You can now wear lace up Nike's like in Back To The Future, Parks and Rec called the Chicago Cubs winning the World Series in 2016 and the Simpsons have been right about, well, seemingly everything. Now there is an announcement from Yum Brands that they are leaning on their partner Grubhub to offer online ordering at KFC and Taco Bell with both pick up and delivery options. Let me clarify…
THEY ARE GOING TO DELIVER KFC AND/OR TACO BELL TO YOUR HOUSE SO YOU CAN SHOVE IT YOUR FAT FACE WITHOUT PUTTING PANTS ON!!!
Now, on the surface, this doesn't seem like a prediction. I started thinking, however, about my initial reaction to the Star Wars character Jabba the Hutt. When I first laid eyes on the sloth-like crime boss I wondered how one gets into that state. No, it didn't dawn on me that he was an alien and the physical parameters of human science didn't factor into his people's survival. I wasn't a smart kid. I'm not a smart man….but I digress. I got to wondering how someone could let themselves get to that level of unhealthy yet still function. Then Yum announced they were going to deliver Taco Bell and KFC and it all made sense.
If this rolls out the way they are hoping, you can assume when you don't hear from me two years after the roll out I have gone full Jabba. I already have the gold bikini for my wife and I know a guy that breeds Rancors.
SOURCE: WALL STREET JOURNAL