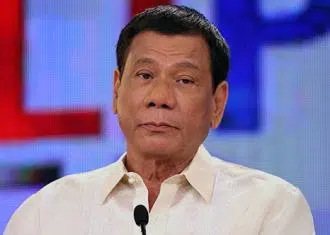 Source: The Washington Post
Philippines President Rodrigo Duterte has a novel idea for dealing with female rebels: shoot them in their nether regions. Anyone paying attention to his nonsense in recent years knows this isn't exactly a new thing for Duterte, but the explicitness is still pretty stunning.
People can say he was kidding, but during a rally, Duterte appeared to be pretty clear. "Tell the soldiers. There's a new order…We won't kill you," he told soldiers with the Armed Forces of the Philippines. "We will shoot your vagina. If there is no vagina, it would be useless."
Of course, anyone paying attention knows that Duterte's "sense of humor" regularly includes violence and denigration of women. Reportedly, when challenged he insists its all just a joke.
A rep for feminist group, Gabriela sees it differently. In a statement, the group offers: "Duterte's latest nasty remark openly encourages violence against women, contributes to the impunity on such, and further confirms himself as the most dangerous macho-fascist in the government right now. He is pushing the fascist AFP to commit more bloody human rights violations and grave abuses of international humanitarian law, and takes terrorism against women and the people to a whole new level."