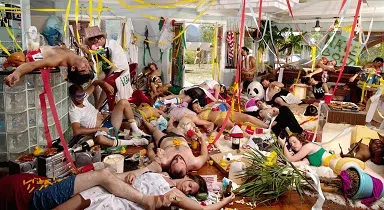 A 14-year-old girl in West Vancouver, Canada used her parents credit card…without their permission, of course…to rent out a luxury home for a super kick-ass party according to the CBC. Lets not get into why a 14-year-old was able to rent a luxury home nut instead focus on the fact that this party, originally planned for 40 of the teens "friends", blew up and got out of control resulting in $20,000 worth of damage to the residence.
Police received multiple reports of a "major disturbance" and turned up to find a swarm of around 200 Canadian teenagers (they are the most dangerous, ya know) fleeing the property. Once inside the police found "smashed artwork, furniture that was smashed, walls kicked in, furniture and other articles tossed off a balcony into a hot tub, very extensive damage that would take some effort to clean up, let alone repair," according to Police Spokesman, Const. Jeff Palmer.
I don't know, guys…I think this sounds like a fantastic movie!
(Zany music…probably Yakety Sax)
Announcer: What happens when two Canadian teenage girls find themselves with their parents credit card…
Ashley: I don't know, Tiffany. My dad said it was for emergencies!
Tiffany: That is why we are throwing an emergency party!
Announcer:  …and things go terribly wrong?
(Raging party)
Ashley: Tiffany! The house is on fire!
Tiffany: There is a goat eating my underwear!
Announcer: Find out this summer in…CANADIAN DILL HOLES!
Tiffany: There. No one will notice a thing
Ashley: Umm…where is the roof?
Tiffany: Don't look at me!
(goat sound)