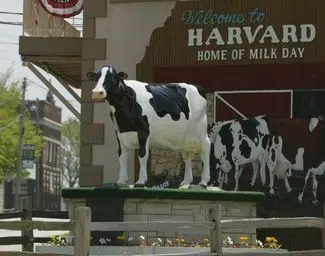 It seems some j-holes in England thought it would be funny to steal a life-sized fiberglass cow statue that was a "local landmark" in the village of Ramsey Forty Foot. That act got me thinking about the town I was born in, Harvard, Illinois. Harvard is home to the Harvard Milk Days celebration. In the city center of Harvard, Illinois is a life-sized fiber glass cow named Harmilda.
Get it? Harvard Milk Days…HAR-MIL-DA!?!?
Oh, how I loved that when I was a kid. I thought that was the height of clever. Kind of informs the ridiculousness that you see here, no? However, remembering Harmilda and how much I delighted in seeing her veiny, pale pink, udders on my way to brunch with my grandmother made me think…I want my OWN fiberglass statue with a stupid name. Lets do it La Crosse! Lets get the city to put up a new fiberglass animal. I mean, we are already getting that big blue alien thing for a little bit and we are painting the side of one of the parking garages downtown. Lets add some more art!
I am thinking at the intersection of La Crosse Street and 3rd/4th, where that fast food restaurant is, we erect a life-size, fiberglass THIS!

 and we will name him Stuey…for Stupid Yak!
Come on, La Crosse! I have never asked you for anything before! Please get me a Stupid Yak. It's for all of us and I promise I will walk and feed him and you won't ever have to clean up after him. Please!
Harmilda: The Daily Herald
The Yak: Sherdog Forums