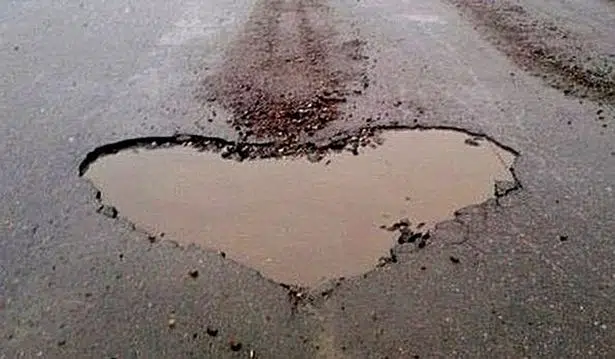 Virginia Beach, Virginia has launched a new campaign aimed at saving the city money and giving residents ownership of their surroundings. Now, in Virginia Beach, you can ADOPT-A-DRAIN! Yes, you can petition City Hall and "own" one of the cities 40,000 storm drains. By "own" the city means you can pick a storm drain, name it, clean it up, keep it free of debris and report any major damage to the city so they can then fix it. The city estimates this could save $35,000.
This is something we need to do in La Crosse. We could do an Adopt-A-Pothole campaign! Through online mapping we could find, name, clean, keep free of debris and report any major problems to the city so they can then fix it. I mean, imagine you are tooling down Lang Drive and you come across the Johnson's pothole that they effectionately named after their beloved pomeranian, Rufus. They have adorned it with fake milk bones and Rufus' favorite stuffed hot dog. Oh, and there is Mr. Schmidt and his pot hole, Barf. That Mr. Schmidt. So funny.
But, turn the corner onto Monitor…I want to check on our pothole. Go slow…I have a surprise. Our pride and joy…Mud Butt The Pothole. There, written out in the broken axles…I love you.
Isn't that a magical La Crosse to live in?
Source: The Virginian Pilot
Photo: Daily Mirror